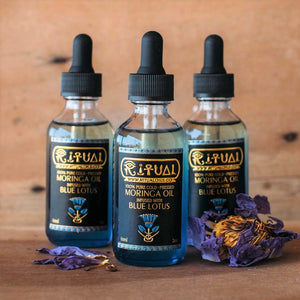 3 Pack of Ritual Oils - Save 14% - Most Popular Purchase
Sale price Price $199.00 Regular price $231.00
This Moringa oil is beautiful, my skin feels so dewy and glowy. And the scent of the blue lotus would now have to be my favourite fragrance. Best naturally perfumed facial oil I have ever used.
Thanks to Ritual Oils my skin has been so smooth and silky plus it feels like my blemishes are less noticeable! Truly is a miracle oil. I have been using it twice a day everyday for weeks and I'm only halfway through my bottle, absolutely love the stuff!
I'm already so in love with your magical oil! I've been using it the past two nights and I can already see a difference, which is absolutely crazy!!
Thank you so much for providing such a life changing product.
From the first time the soft alluring divine fragrance of your oil graced my senses, it instantly appealed to my soul's intimate nature. I have shared with my friends and will continue to spread this magic with the world - it's too good not to!
I'm so in love with it. It's only been 4 days & honestly it has made a difference - I'm literally so thankful and grateful I found your page!! I've been feeling very low vibe lately & doing a beauty ritual with oil, gua sha and roller has lifted my energy and I look forward to it everyday. I feel more motivated and happier!! 
Two Perfect Ingredients
A unique blend of 2 very sacred ingredients, Ritual Oils are made for your daily self love rituals. 
Suitable for all skin types, the primary ingredient is our 100% Pure Cold-Pressed Moringa Oil which feels amazing as it soaks deeply into the skin to leave your face & entire body feeling fresh & alive - without that greasy oily feeling often encountered with most other face oils.
We infuse it with Blue Lotus Absolute. Breathing in the delightful scent awakens the senses by activating the Crown Chakra which helps to bring in a unifying, comforting & centred feel that uplifts your vibration - instantly harmonising the senses. 
Together, they make a perfect blend.   
Truly unique, an original blend harnessing these two ancient plant allies. 
𓂀𓆸
USE RITUAL OILS TWICE DAILY :
- Suitable for use on sensitive skin or eczema, dermatitis and psoriasis prone skin
- Promotes youthful, dewy looking skin
- Suitable for use on acne prone skin
- Daily use helps to reduce the appearance of acne scars and dark spots 
- The uplifting notes of the Blue Lotus awakens you to the present moment.
- Excellent moisturiser for all skin types, perfect for sensitive skin
- Wonderful oil for every type of massage
- Excellent grounding Meditation oil
- Helps to soothe skin, makes it feel fresher, smoother and smelling great too
- Impeccable Gua Sha Facial Oil
- Nourishing leave-in hair treatment for revitalising dry scalp & frizzy hair
- Eyebrow and eyelash enhancer
- Smooth aftershave, suitable for sensitive shave burn skin
- Relief from dryness from the sun
- Tattoo after-care oil
- Beard tonic for lush bushy manes
- Exquisite Intimacy oil
and much more...
It's so versatile, you'll take it with you everywhere you go.
Shop now
Did You Know?
Moringa Oil is one of the most nutrient rich oils in the world.  It contains antioxidants and provides essential fatty acids which moisturise the skin. 
Regular application of Ritual Oils reduces the striking appearance of wrinkles & fine lines.
Smooth, silky, goodness for your skin
𓂀𓆸
MORINGA OIL IS RICH IN:
- Vitamin A
- B-vitamins
- Vitamin C
- Vitamin E
- Omega 9
- Amino acids
- Behenic acid
- Oleic acid
- Palmitoleic acid
- Linoleic acid
and much more.
shop now
Divine Nectar
The Ancient Egyptians believed the scent of the Blue Lotus had a divine origin and it was used in rituals, ceremonies, cosmetics & scented salves.
The Blue Lotus has an intoxicating scent awakening you to the present moment. The mystical perfume uplifts the psyche evoking feelings of tranquility & bliss.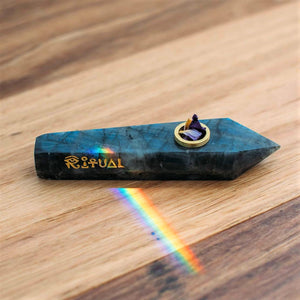 Labradorite Magic Pipe + 1 Pack of Blue Lotus Flowers
Sale price Price $99.00 Regular price $0.00
Sacred Wisdom
Adored by the gods, Ancient Egyptian hieroglyphs illustrate the Pharaohs bearing gifts of Blue Lotus flowers to Hathor, the Cow Goddess who personified motherhood, fertility and abundance.
The Blue Lotus was the Goddesses Sacred Flower representing her powers of magic.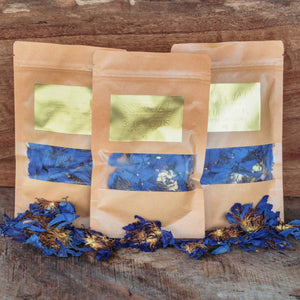 3 Packs of Blue Lotus Flowers - Save 11%
Sale price Price $48.00 Regular price $54.00
Do Your Ritual
Take a moment to drop into yourself. 
Dispense half of the loaded dropper onto the palm of your hand and begin to rub your hands together.
Inhale deeply the pleasant scent of the Blue Lotus, allowing it to activate your senses, purifying your aura and bringing you back to center. 
Close the eyes and proceed to lather into your face, neck and body, bringing your awareness to the surface of the skin, as you whisper sweet nothings to yourself and choose to consciously send love into your body through the pores of your skin.
For best results, apply morning and night to clean damp skin after washing your face or having a shower and use in conjunction with Rose Quartz Face Roller and Gua Sha tools.
*For topical use only.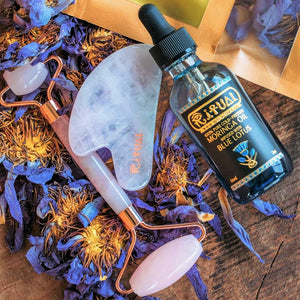 Rose Quartz Face Roller, Gua Sha & Ritual Oils Set
Sale price Price $133.00 Regular price $149.00
Free Shipping Worldwide*
We are based in Sydney, Australia & Ship Via Express Post Only
You Get Free Domestic Express Shipping when you spend over $99 AUD
You get Free International Shipping when you spend over $199 AUD
We ship via DHL eCommerce Services for all International orders and Aus Post Express for domestic orders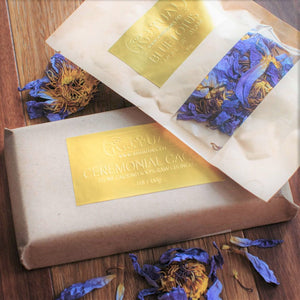 1 LB Ceremonial Cacao Block + 1 Pack of Blue Lotus Flowers
Sale price Price $77.00 Regular price $94.00
Get In Touch
Are you a retail store interested in stocking our products on your shelves? Or are you someone looking to offer our products to your clients and/or wider community during events, workshops, courses or retreats? Perhaps you are interested in learning about our affiliate program?
Lets Connect